Teradata Everywhere™
Solutions
Freedom to analyze anything, anywhere, anytime
Teradata Everywhere™ is a flexible, agile, scalable way to ensure a high return on your analytic investments, allowing you to modernize your analytics environment with integrated technologies to address your toughest business problems—at enterprise scale and performance. The flexibility of Teradata Everywhere de-risks major decisions so you can move ahead today with confidence that your financial, architectural, and application development investments are protected tomorrow.
Teradata Vantage: Analyze anything
As the foundation of Teradata Everywhere, Vantage addresses your business needs both today and in the future by integrating the best commercial and open source analytic technologies with the added benefit of giving users throughout your organization access to their preferred analytic tools and languages.
Deploy Anywhere - Provides analytic processing across flexible deployment options, including the Teradata Cloud and public clouds, as well as on-premises via Teradata hardware or commodity hardware.
Buy Any Way - Empowers companies to purchase software in more accommodating ways based on specific use cases through simplified pricing bundles, subscription-based licenses, and as-a-service options.
Move Anytime - Future-proofs buying decisions with Teradata software license portability that provides flexibility to move analytics across deployment options.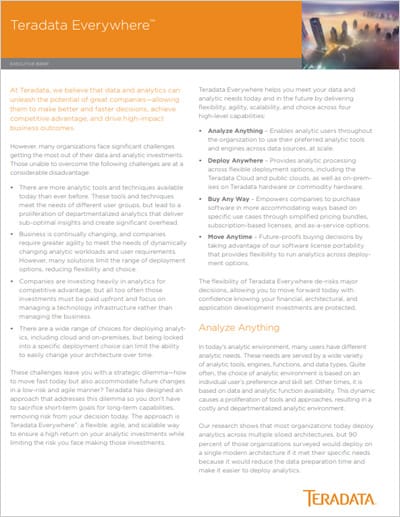 Reduced risk today and tomorrow
With Teradata Everywhere you won't sacrifice short-term goals for long-term capabilities because it was developed to help you move fast today while accommodating future changes in a low-risk, agile manner.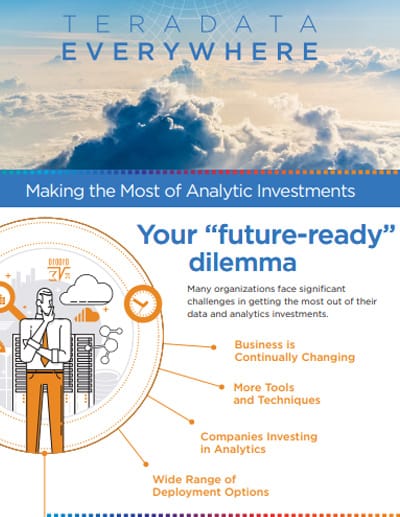 Maximize ROI
See how Teradata Everywhere de-risks your analytics platform choices and uncovers deeper, more valuable business insights faster than ever.
Executive Brief
Teradata Everywhere


Video
Future proof your analytics.
Deploy your architecture and
business models in the cloud
or on-premises.
White Paper
Driving Forces for Taking
Analytics into the Cloud


Article
And now...a Production
Analytic Platform