Product discovery helps to verify assumptions and identify risks before product development starts. The product discovery process helps to test assumptions and reduce uncertainty about a product idea. This article highlights the challenges and risks of product discovery activities.
Product discovery is a promising approach that requires the collaboration of product management, user experience and engineering teams. It focuses on understanding the problems and finding solutions that are usable and delightful for users.
Product Discovery Challenges
Product teams face a few challenges while performing product discovery. Below is a list of these challenges, ways to overcome them, and to make the process more efficient.
Confirmation bias: UX research is the main activity in product discovery and confirmation bias can effect the results negatively. This leads to incorrect decisions based on false assumptions and personal preferences. Asking incorrect questions from users results in biased outcomes. Similarly, if you ask biased questions from users, it can enforce them unintentionally and confirm your thoughts and opinions instead of providing the users' own perspectives.
Lack of clarity of problem: Sometimes the problem is not fully understood, and a limited scope is considered while thinking about the solution. The inability to collect insights from multiple aspects of users and, therefore, making quick and emotional decisions are the main reasons that product teams cannot explore the problem space completely.
Thinking about concrete solutions too early in the process: It is easier to quickly jump towards a solution while discussing a problem. This is not a bad approach; however, it is better to first dig into the problem deeply and then start thinking about multiple options to resolve that problem.
Outsourcing the product discovery process: This will make it difficult to get full insights about your users since outsourcing will not allow you to get involved in the process by yourself. You will rely on findings and reports prepared by the third-party company or team.
Involvement of cross-functional roles: Doing a successful product discovery requires that cross-functional teams work together. The team includes product managers, UX designers, engineers and people from sales and marketing. This team is responsible for product discovery and delivery.
Selection of the right metrics to validate the solution: It is important to select the right metrics to measure the effectiveness of the proposed solution. Selecting user feedback after building and sharing the prototype is an important step. Measuring the results based on the right metrics helps to understand how well the solution will perform.
To overcome these challenges, it is important to address the risks that are expected to occur and ensure the right thing is being built.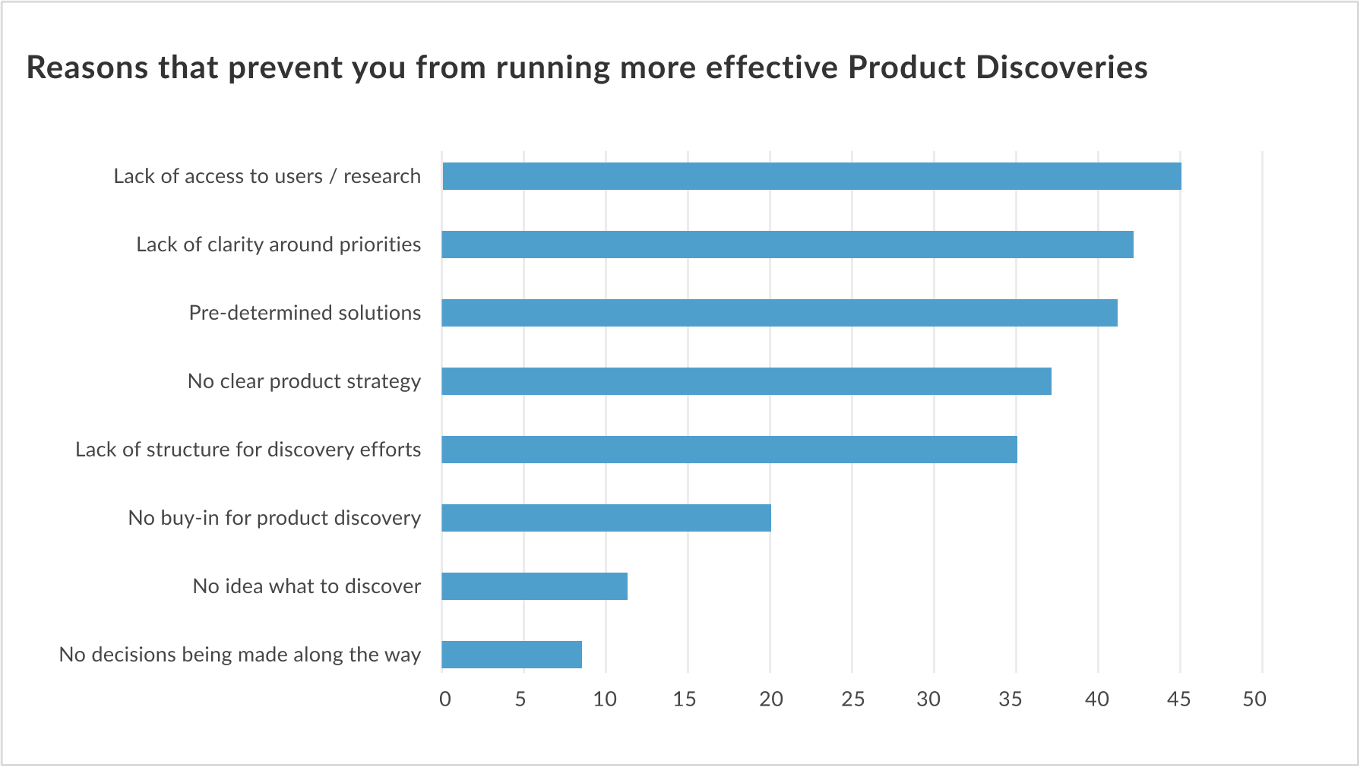 Tim Herbig summarized the results of a survey to show the reasons that prevent product teams from running more effective product discoveries.
Marty Cagan identifies four big risks that product discovery helps mitigate early in the process.
- Value risk: whether customer will buy the product
- Usability risk: whether the user will be able to use the product
- Feasibility risk: whether the team will build it within available timeframe and skillset
- Business Viability risk: whether the product fits with go-to-market strategies / works for the various aspects of the business – sales, marketing, finance, legal, etc.
Conclusion
Product discovery helps reduce uncertainty to a level that enables businesses to develop a product that provides value to customers. Mitigating risks early in the process is key. If you identify and address possible value risks, usability risks, feasibility risks and business viability risks for your product, then it will help you in building a product that matches with the users' needs.

Stay in the know
Subscribe to Teradata's blog to get weekly insights delivered to you