There is substantial value for utilities to transform their operations with digital technologies. There is an opportunity for up to 25% reductions in overall operating expenses resulting in increasing profits and revenues. Applications of advanced analytics plays a principal role in utilities digitalization along with digital enablement and process automations. These create business outcome opportunities across the entire utility value chain in the areas of operations, safety, reliability, customer satisfaction, and compliance. Over the last two decades, many utilities have made substantial investments in digital transformation. However, they fall short of achieving full benefits, ranking at the lower end of the digital adaptation maturity curve – well below other industries. Some of the key barriers are slow risk-adverse approaches, lack of digital talent, and complex IT environments.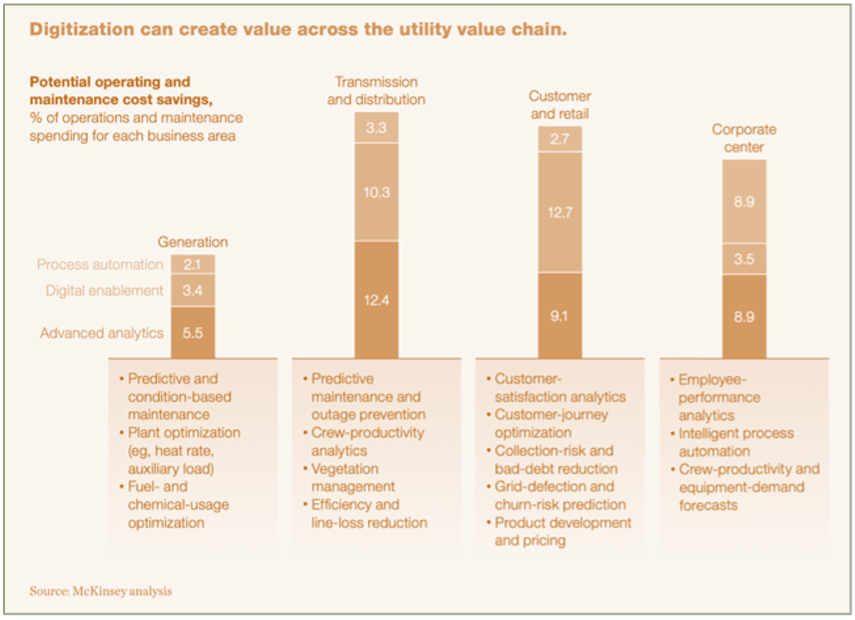 Meanwhile, utility customers are demanding higher service reliability, effortless interaction with their utilities on order fulfillment and service restoration, and solutions reducing their costs. These expectations are often set by gold standards in other service industries including online retail, travel, and package delivery. To advance in meeting these demands, utilities need to speed up their digital transformation in the areas of Advanced Metering Infrastructure (AMI), Distribution Automation (DA), and Distributed Energy Resources (DERs). These new digital technologies such as smart meters and operational sensors generate high volumes of granular data which could provide significant insight into power supply, operations and maintenance, safety, energy consumption and customer experience. They offer whole new level of transparency across the entire utility business value chain. To accelerate delivering value through hundreds of possible use-cases, utilities need to have a systemic approach through a value-oriented framework. This Business-Value-Framework ensures proper selection and prioritization of use-cases yielding the most value for the utility. A typical approach includes these 10 steps:
1. Collection of use-cases
2. Categorization of use-cases
3. Evaluation use-cases business impacts
4. Alignment of use-cases with KPIs
5. Prioritization (value, feasibility, etc.)
6. Developing a roadmap
7. Use-case design criteria
8. Modeling
9. Operationalizing solutions
10. Continuous Improvement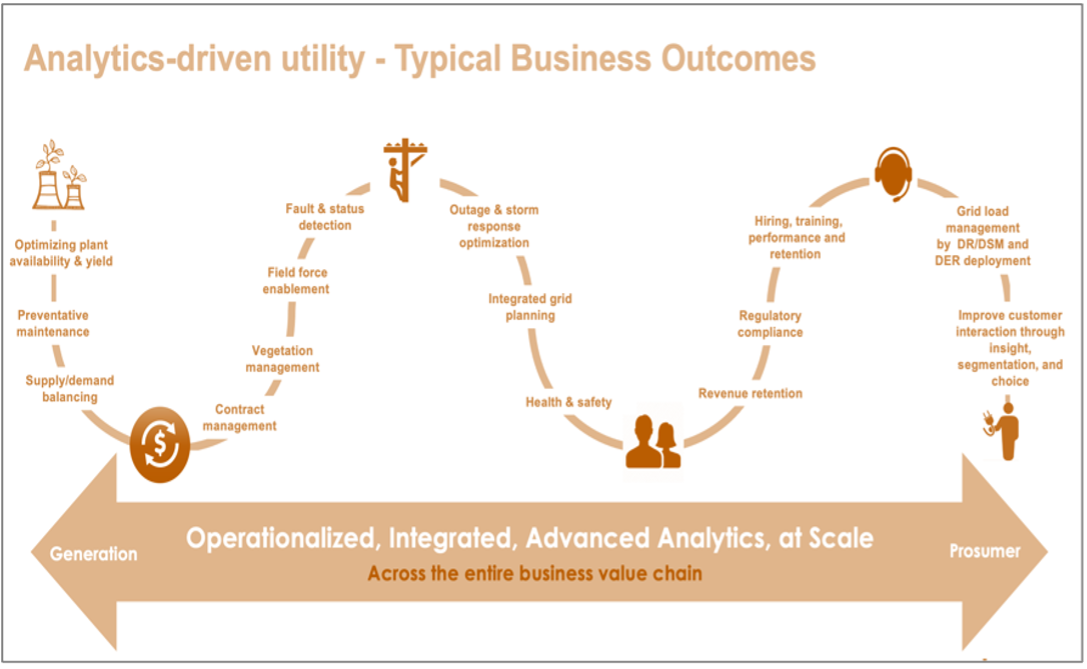 Once a roadmap is developed, utilities need a solid approach for modeling and predicting outcome for use-cases. Teradata's Analytics 1-2-3 is an approach that provides for a flexible, repeatable, and accountable processes for delivering advanced analytics (ML/AI). It offers a three-stage approach of preparing, training, and deploying data models. In the preparation stage, data engineers will access, prepare, and cleanse the data to ensure usability and quality. Having the proper data governance, standards, tools, and capabilities can significantly reduce the amount of time data engineers spend in this stage. In the training stage, data scientists rely on the prepared data set(s), apply ML algorithms to train and test for accuracy and model optimization. Data scientists' flexibility to access a variety of analytical languages and tools both natively and through open sources can significantly expedite solution delivery. Lastly, in the deployment stage, the model is ready for operational scoring, predicting outcomes, monitoring, and integration with other business processes. This stage benefit from an operationalization framework such as Vantage ModelOps for lifecycle management.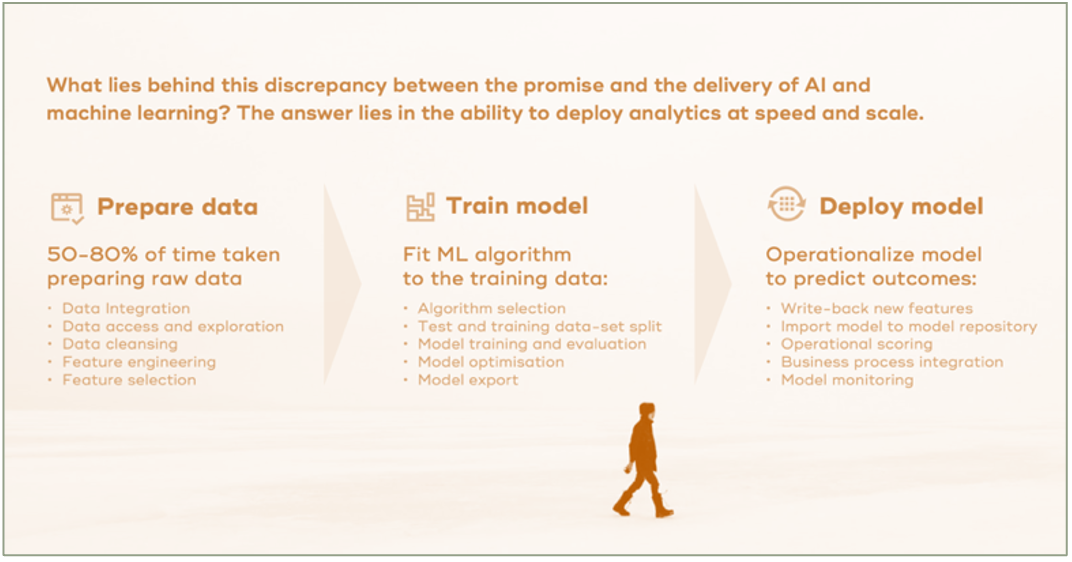 Finally, the utility needs an enterprise-level data management and advance analytics platform.
Utilities' complex IT environments are typically composed of hundreds, if not thousands, of data repositories serving hundreds of applications. Utilities need the ability to access, integrate, and analyze data at scale in orchestration with all IT/OT data sources across the business. Teradata's ClearScape Analytics capabiltiies deployed on VantageCloud platform is the optimal enterprise solution for the utility industry. This platform behaves as a fabric providing data engineers, scientists, and business analysts seamless access for management and data analysis throughout the ecosystem. It provides these consumers with utility specific native capabilities and features such as utility data standards, analytic schema, engineering features and in-data base advanced analytics functions in a high performing and autonomous environments. These enablers are essential to accelerate and secure the delivery of business outcomes for:
• Outage detection & prediction
• Load profiling & forecasting
• Vegetation management
• Meter to cash
• Predictive asset maintenance
• Demand side management
• Customer 360
• Energy supply forecasting
• Dynamic rate design, and more
Below is a summary key capabilities and features of ClearScape Analytics on Vantage Cloud:
• In-database analytics feature library (timeseries, temporal, and geospatial)
• Utilities data model and analytic schema
• Utility specific enablers to accelerate and secure solution delivery
• Preferred language and tools for model development
• Importation of models developed outside into Vantage Cloud
• Feature storage capability to foster collaboration and reuse of prebuilt models
• Lowered operational costs with separate storage and compute
• High Performing engine for strict SLAs
• Automatic and elastic self-service environments
• Access to data anywhere within your data ecosystem
• Highest levels of system up-time, availability, and resilience
• Internal and third-party data sharing
• Oversight of departmental budge

Stay in the know
Subscribe to Teradata's blog to get weekly insights delivered to you